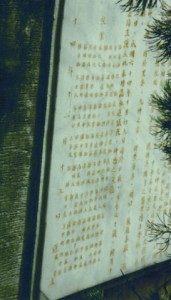 Acupuncture the first known Chinese medical textbook is on acupuncture and it dated back about 400.BC. Acupuncture is an ancient Eastern form of medicine and it has been used in China, India, Tibet, Vietnam, Mongolia, Korea and Japan for the last 2000 years. Acupuncture is a medical treatment as well as a holistic healing process that has been practiced in China for more than 2000 years. During an acupuncture session, needles are inserted into some of the body's acupuncture points in order to release blocked flows of energy. It is most commonly used to relieve pain caused by arthritis, migraine and period pain, and to cure addictions such as smoking. Acupuncture is now getting more popular in various Western countries, especially as more people in western society disliked taking pills. It is a new trend that people nowadays are more likely to request a combination of both conventional and alternative medicine (especially the acupuncture) treatments for their ailments or illness.
The World Tung's Acupuncture Association (W.T.A.A) is a provincially registered non-profit professional, and International organization. The W.T.A.A. was established by three medical doctors: Dr. Palden Carson, Dr. Marian Zazula, and Dr.Wangden Carson. Dr. Palden Carson is a disciple of Master Tung, and is the author of the only authoritative English text book of "Tung's Orthodox acupuncture" which was approved by the late Master.
Join us to know more about:
Our Officers
New Appointments
How to learn Tung's Acupuncture
The Constitution outline of the W.T.A.A.
2015 TRAINING COURSES
Educational Program
Membership
…and much more by visiting below link.